Bathroom renovations have long been the same. New tile, upgraded vanity/countertops, and maybe a new showerhead, lately though there have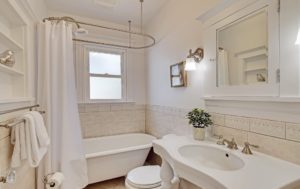 been some cool "smart" features that have become trendy in bathroom renovations. Heated towel racks, smart backlit mirrors, and in bathroom audio have become more people in Seattle Bathroom Renovations.
Seattle Bathroom Renovations Trend #1 – Heated Towel Racks
Yes, they are as great as the sound. You know how great it feels to get into a hot shower or bath after a long Seattle winter day? How about the feeling of putting on a t-shirt fresh out of the dryer? It doesn't get much better than being surrounded by warmth, and that's exactly what heated towel racks do for you. The warmth doesn't have to stop because you've turned the water off. Heated towel racks are well worth the extra cost for most Seattle bathroom renovations. It also leaves a luxury touch and value add when you elect to sell the home.
Seattle Bathroom Renovations Trend #2 – Smart Backlit Mirrors
If you are like most people, you get tired of light fixtures quickly and are frustrated by the poor or harsh light they produce. While LED lighting has made it easier to tune your lighting, backlit mirrors are all the rage right now when it comes to luxury bathroom renovations. When the mirror is properly light from behind you do not have to deal with shadowy light anymore. Backlit mirrors also make it easier for you leave the house with confidence. Nothing is worse than getting to the office and realizing you have a stain on your shirt or pants that stand out under the office lighting but not your home lighting. Did you get dressed in the dark this morning?
Seattle Bathroom Renovations Trend #3 – In Bathroom Audio
Bluetooth speakers have been around for a while, but do any of them really perform that well? Enter Sonos, Sonos has created high-end speakers that run on WiFi, can be mounted virtually anywhere, sound great, and are controlled from your phone. We've had a number of clients ask us recently if we can integrate Sonos speakers into their Seattle Bathroom Renovations. Be it mounted from the ceiling in the shower, built in the walk-in closet, or hidden into the interior design, Sonos speakers perform well, look luxury, and make time spent in the bathroom a lot more fun.
We've been doing bathroom renovations in Seattle homes for 10 years. We love how different each client bathroom turns out because of custom features like the 3 Seattle bathroom renovation trends we talked about in this post. If you are interested in learning more about our bathroom renovations head over the Seattle Home Remodeling page or contact us today.